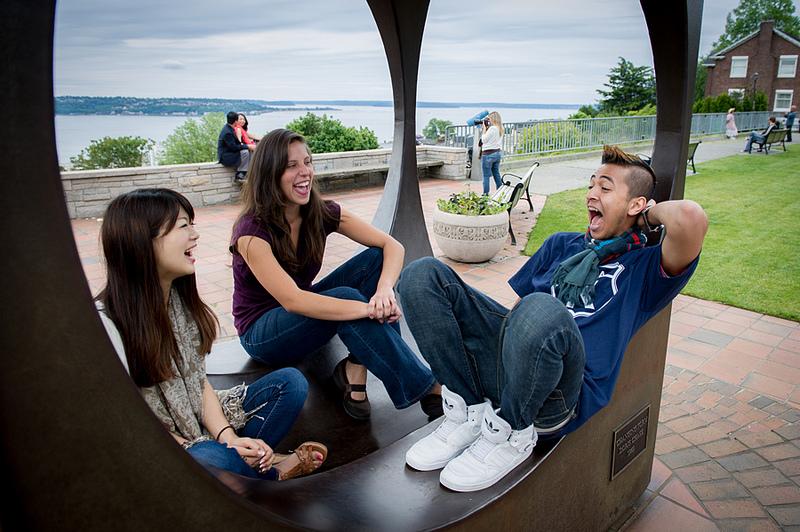 A guest article by Katie Collom of LanguageTrainers.com
Ideas for Learning a New Language this Year
I'm a bit of a language junky which means that I love taking classes to learn the basics of a variety of foreign languages. But since leaving my college days behind and starting to work full-time (cheers to grown-up life!), I've realized that having the free time to attend language classes is a nostalgic thing of the past. I'm sure you – whether you're trying to learn a foreign language as a hobby, for a job, or because you are moving abroad – understand what I mean when I say that it's difficult to take language lessons as often as you'd like. Perhaps you can't find classes which fit into your schedule, they're located too far away, or you simply can't go to enough lessons in a week to feel that you're truly getting as much learning in as possible.
But if you're planning on adding learning a new language to your list of New Year's Resolutions for 2014, there are alternative ways of making sure you toe the line instead of letting that goal fall to the wayside. Online classes have really exploded in the last several years to become a viable and convenient source of learning and are a great option for those who either prefer learning from the comfort of their own home or need some outside help to make attending language classes worth it. So for 2014 here are five great online tools to help you achieve some level of proficiency in your target language.
YouTube
You might not have seen this one coming, but you should definitely consider YouTube as a viable learning source in 2014. You can find a plethora of videos which feature language instruction and tutoring, and even better, look up songs or movie shorts in your target language. Although a bit unconventional for language learning, it definitely offers a lot of selection for an interesting educational experience.
Games
One of the best ways to learn without actually feeling like it's a lot of hard work is to play interactive games. Games like this one can make learning a language a breeze and are definitely a fun option for 2014 foreign language study!
E-Books
There are a lot of great sites which offer free e-books. Just pull up your list of must-read stories and books in your target language and Google away! Reading is an excellent way to improve your vocabulary and grammar skills, so online books should be a serious learning choice for you in the New Year.
Infographics
Infographics are visually stimulating and generally easy to follow. I love using infographics as a learning tool – whether it be for language learning or anything else. You can find an infographic for almost anything; whether you want to find out which languages are the most difficult to learn or discover what's the best way to learn a language, there's a little something for everyone – as long as you don't mind taking the time to look!
Trial Exams
You don't necessarily need to leave home in order to test your language skills – and trail exams are a definite must if you want to gage your level and determine how quickly you're advancing. Many sites offer Language Level Tests for a variety of languages, so you're sure to find one for the language you're currently studying. This way you can better figure out your language learning goals for 2014 and progress at a faster pace!
Staying on Top of Language Learning at Little Cost
I think we can all agree that with a rapidly shrinking world, it's important to stay on top through learning new languages. Online learning tools make language learning easily accessible to everyone and many times comes at very little cost to you; 2014 is definitely looking up when you have so many great options available to help you on your language journey. Your biggest issue will be choosing a single tool and trying to decide which language you'd like to learn next!
About the Author
Katie Collom represents Language Trainers, which provides individually-tailored language training on a one-on-one or small group basis worldwide. Test Your Knowledge of Nonsense, The Hardest Languages to Learn, How To Learn English, and Language Level Tests are free educational tools provided by Language Trainers. You can find that and other free resources on their website, or email our team at enquiry@languagetrainers.com for more information.