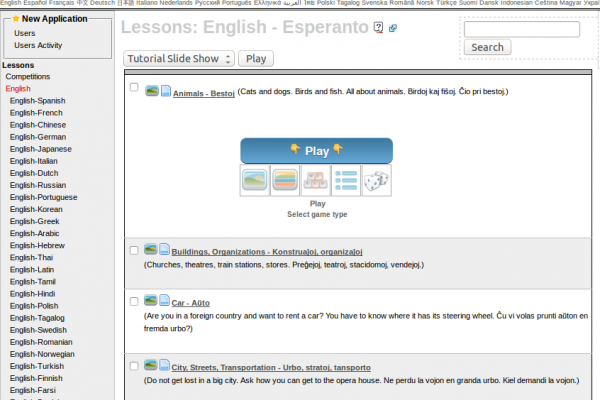 Free App and Dozens of Online Esperanto Games
Internet Polyglot offers fun and free games for learning basic Esperanto vocabulary online. They also offer free Esperanto apps for Android and iOS (iPhone, iPad, iPod Touch).
There are currently over forty lessons available in tutorial, guessing, typing, matching and mix formats. These Esperanto educational games are similar to learning with flashcards, with the added benefit of audio for pronunciation along with the fun of being able to mix and match the game experience.
For both mobile Esperanto apps and games, the lesson topics include Animals, Colors, Weather, Transportation, Sports, Hobbies, Art, Music, Entertainment, Shopping, Money, Education, Geography, Cities, Countries, Measurements, Directions, Human Characteristics, Numbers, Plants, Professions, Clothing, Ages, Work, Health, Medicine and more.
These games and apps are great resources for Esperanto teachers and learners alike.
Play the Esperanto Learning Games Online
Use the widget below to play their online Esperanto learning games right here or visit their website to play, create and account and save your results and learn about their free Esperanto mobile apps. Internet Polyglot also sells audio download products.