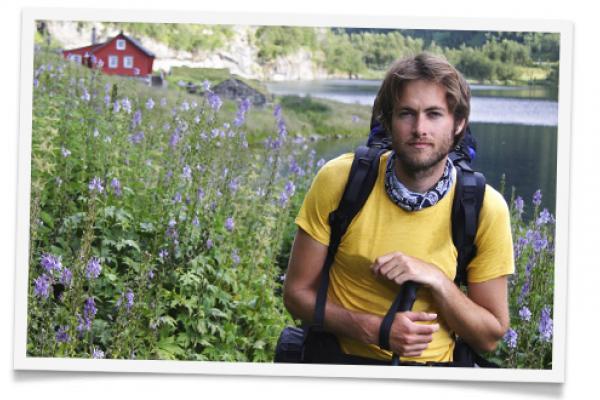 Babbel Integrated Norwegian Language Learning Website, iOS and Android Apps, Social Network, Multimedia Flashcards and More
Babbel Norwegian combines multi-media visual and auditory learning, social networking interactivity, sound educational methodology and mobile apps (for iPhone, iPod Touch, iPad and Android) in a one-stop integrated platform for learning Norwegian.
They're constantly expanding their platform, adding loads of new features to the Web interface as well as mobile to enhance your Norwegian learning efforts online - and take them mobile.
Babbel's mobile apps seamlessly synchronize your Babbel account with iPhone, iPod Touch, iPad and Android, allowing you to study Norwegian on your mobile device even when you're offline! These apps are free to download, and link with your account when you log in.
Babbel's interface is the definition of eye candy, works on any modern Web browser, loads quickly and runs solidly. The dynamic learning system reviews you on terms and phrases you've learned while seamlessly incorporating new ones on topics you select. This guarantees you'll be interested in what you're studying - and that it will be the most applicable to your specific needs and goals.
Part of the Babbel learning system involves media-rich (and user shared) virtual flash cards. The flash card stacks are organized into "packages" (groups of cards) that treat common themes (eg, youth hostels, winter sports, restaurants and eating out, fruits and vegetables, clothing, standard greetings, giving and receiving compliments, etc). With input and contributions from the users, these packages get consistently better as more contributions flow in.
Furthermore, an intelligent system organizes all the vocabulary words you've learned. You get a comprehensive overview of everything you've studied - and it signals which are your problem words so you'll know you need to practice them again. Very helpful both for tracking progress and success.
Add to all of this Babbel's social networking features, including the ability to find other users interested in sharing and exchanging language skills, and you have a dynamic Norwegian-education platform that covers all the bases.
In addition to Norwegian, Babbel is available for learning Brazilian Portuguese, Danish, Dutch, English, French, German, Indonesian, Italian, Polish, Spanish, Swedish and Turkish.
So try a Babbel lesson free and see if it works for you. You can select one of various options for your free lesson. With a little time, you'll be up and learning, making friends to share with, quizzing yourself on the go and progressing more quickly than you may think possible.
Treat yourself and have some fun learning Norwegian - go Babbel!
Free or Subscription?
There are not many resources out there for learning Norwegian, and there are none I know of that bring together the level and quality of instruction as well as breadth of content as Babbel.
Having researched and tested free and paid options extensively, I definitely say that Babbel sits right at the top of your subscription options - it's incredibly fun and intuitive, offers online and offline solutions and is amazingly fairly priced. (For example, you could use Babbel for over five years for less than the price of the full Rosetta Stone Norwegian suite.)