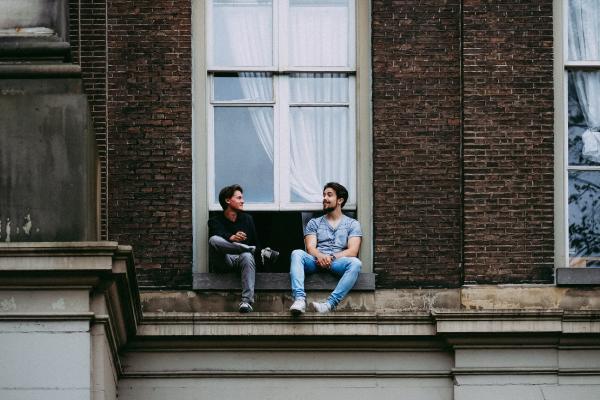 Cutting edge Dutch learning with apps, VR + AR
If you're searching for a cutting edge way to learn Dutch, you are in luck. Mondly is reinventing the language learning space by creating unique ways for Dutch learners to dive into a world of language immersion.
After creating a wildly popular app (30+ million downloads in 190+ countries) for iOS and Android, Mondly has gone on to create two breakthrough firsts in language education: the first VR (virtual reality) language learning experience with voice recognition and Chatbot technology and the first AR (augmented reality) language app with speech recognition.
Wow! Curious? Read on to discover much more about this one-of-a-kind mobile Dutch learning service...
Check out my Free Language Podcast interview with Mondly's CEO, Alex Iliescu!
Play your way to fluency in Dutch
Mondly is a revolutionary way to learn Dutch right from the comfort of your phone or computer. It takes you on a gamified Dutch language journey designed around real-life situations like ordering food in a restaurant, dealing with emergencies and going on vacation - to name just a few.
Mondly covers beginner, intermediate and advanced Dutch proficiency levels, sports an easy-to-use customizable dashboard plus world class multilingual speech recognition technology. Mondly allows you to synchronize your Dutch learning between all devices (iOS, Android and Web).
Focus on useful Dutch phrases rather than individual words
Mondly takes you beyond learning Dutch vocabulary by focusing your learning time on high-frequency phrases that are immediately useful in real life.
Learn Dutch by listening to native speakers
Mondly works with professional native Dutch speakers to provide you with authentic pronunciations and natural accents.
Practice real Dutch conversations
The Mondly method aims to get you immersed in Dutch ASAP using chatbots, AR and VR, removing the stress of speaking with actual people until you're already comfortable conversing.
This single feature is key in overcoming the fear of speaking Dutch before you dive in head first with natives - great for folks who are nervous about speaking Dutch and want to get practice in a nearly-real-life way without the extra stress of being on the spot.
Retain more Dutch using a unique spaced repetition system
Mondly's technology uses tested and effective intervals for repetition to help you acquire Dutch fluency not only quickly but permanently.
Enjoy shiny new Dutch lessons daily
The Mondly team works tirelessly to provide 20+ million active and ecstatic learners with new Dutch lessons every single day!
Dutch language learning categories and lessons
Instead of having a linear approach to Dutch, Mondly is highly-customizable and allows you to select topics that are of immediate interest or need to you rather than having to muck through a bunch of stuff you will likely never use.
Depending on your needs, you can select and choose from a wide variety of categories to get started learning Dutch. These general categories include Family, Country & Languages, Travel, Vacation Activities, Public Transportation, Seasons & Weather, Romance, Core Vocabulary, Preparing a Trip, Airport, Business, Restaurant, Hotel, Fun, Bank, City Tour, Doctor, Help, Animals, Colors & Numbers, Fruits & Food, Parts of the Body and more.
Dutch learning statistics and leaderboard
Often when learning Dutch, we forget just how much we have progressed already and this can lead to frustration and potential abandonments of The Dutch Dream. With Mondly, this is unlikely to happen! Their interface includes a nifty statistics section to keep you informed of exactly what you've learned and how much progress you are making.
In addition, you can challenge yourself to level up with other Mondly Dutch learners using the leaderboard - this can be an excellent source of motivation and provides a way for you to compare yourself to others learning Dutch all around the world. Who knows, you could be the next #1 spot on the Dutch leaderboard!
The coolest bonus with Mondly Dutch
If you're like me and your language learning goals go beyond just learning Dutch, Mondly is a top choice as they offer a single affordable price that gives you access to all 30+ available languages.
This means if you go ahead and subscribe to Mondly Dutch now, you will immediately get access to dozens of other languages as well!
Not only that, the ability to select both the language you want to learn in and the target language you are learning allows you to create custom combinations that fit your specific needs. If you're not a native English speaker, this could be just the thing you've been looking for, as you can choose to learn Dutch from your native language rather than learning from Dutch - and considerably improve the results you get from the time you spend playing your way to Dutch fluency.
In case you're curious, this nifty feature allows for an astounding 1056 language course combinations in one product!
Mondly is changing the way millions of people learn Dutch and 30+ other languages!
33 languages available
500,000+ reviews on the App Store and Google Play with 4.7/5 rating
2017 Facebook app of the year in Europe, The Middle East and Africa
Best New App in the App Store in January 2016
MondlyVR is the first Virtual Reality language learning app with speech recognition in the world
MondlyAR is the first Augmented Reality language learning app with speech recognition in the world
MondlyKIDS was selected as "Editor's Choice" on Google Play in late-2017
Words straight from Mondly's CEO, Alex Iliescu
Being selected as an Editors' Choice app by Google is an acknowledgement of the quality language experience we are offering learners worldwide with Mondly.

Our long-term commitment is to bring learners one step closer to fluency effortlessly through a mix of innovative technology, breathtaking design and an outstanding learner experience.
Here's what Facebook says
Mondly is the first company to launch a VR experience for learning languages with speech recognition and chatbot technology.
Join 30+ million users - start learning with Mondly today
Check out this revolutionary Dutch language learning app.
Available for iOS, Android and Web
Take your Dutch learning everywhere across devices and on your computer - Mondly is available for them all.