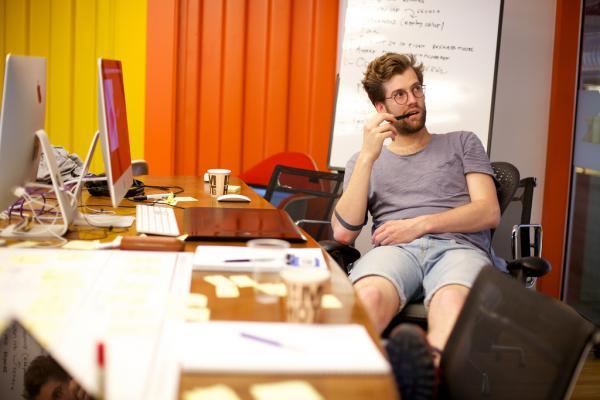 Update: Babbel is now available in Spanish, French, German, Italian, Portuguese, Polish, Turkish, Indonesian, Danish, Norwegian, Dutch, Swedish and English.
Summary
Babbel is the bomb. Not babble or Babel but Babbel! It's a website with slick tools and a smooth interface (modeled after a video game console) geared primarily towards learning and retaining loads of vocabulary terms and key phrases through audio visual.
The interface is pure eye candy and it loads quickly (I use a standard DSL connection) and works solidly. I have been testing Babbel out for a while now and it has never gotten buggy on me. The system tests me on terms and phrases I have already learned while incorporating new ones about topics that I elect and, thus, are more likely to be interesting and useful to me.
This excellent virtual flash card software also allows users to upload images to represent vocabulary items (be they nouns, verbs, phrases or what have you) and improve the learning experience for others. Users rate these images on how relevant they are for the term they represent, collectively choosing what most people feel best represents that term or phrase.
The flash card stacks are organized into "packages" (groups of cards) that treat a common theme, such as youth hostels, winter sports, restaurants and eating out, fruits and vegetables, clothing, standard greetings, giving and receiving compliments, etc. With input and contributions from the users, these packages get consistently better as more folks contribute.
Add to this the social twist that Babbel offers - the ability to hook up with other users interested in sharing language skills - and you have a well-rounded platform for beginners to excel rapidly in their first weeks and months working with a new language.
Currently, Babbel offers these features for learners of English, French, German, Italian and Spanish. This site is also localized in those languages, so if you like a challenge you can learn German in French, study Spanish in Italian, etc. This is cool for people who already have enough knowledge in a foreign language to understand and navigate the interface and can simultaneously maintain one language while learning a new one! I am learning German through the site, and I have chosen German as the interface language. That's another option for total immersion in the target language.
Thanks and many props to the folks at Babbel. :) I will definitely continue using the site to learn German - and I'll be waiting for more languages to appear on soon.
Babbel isn't just a website, it is a full Web-software-powered environment for foreign language learning.
From Website
Babbel Brings the Whole World Home

A new website with a social twist makes language learning easy and fun

Up until now, the best way to learn a language -- besides, maybe, in the classroom -- was to pack a bag, get on a plane or a train, and immerse yourself abroad. But what if you could learn, say, French, while eating a croissant in your own home and meet a real Parisienne in the process?

The idea of Babbel.com, the new, free language learning website with a social twist, is just that. This playful application is ideal for a quick start into a new language. With a design inspired by a game console, Babbel makes picking up new vocabulary effortless. But it also enriches and motivates by connecting you with the best teachers around: other Babbel users.

Babbel is truly multimedia, incorporating human voices and user-generated images into the teaching of real-life vocabulary. In Babbel's current languages of English, German, Spanish, French and Italian, you can learn, for example, how to shop for groceries, express your feelings, or flirt. In place of the traditional flash cards, an effective and "intuitive" repetition system makes cementing new content easy. Meanwhile, the unique Refresher tool tracks your learning progress and reminds you what to review.

A participatory experience, Babbel relies on you and its other users to create much of its content. Through a clean, easy-to-use interface, you can make a personal profile, finding a a "Tandem" partner who speaks the language you are learning as a native, or a "learning partner" studying the same language. You also can upload pictures that correspond to vocabulary, and then their relevance is voted on by native speakers before they are included in lesson packages. An extra fun aspect is a high-score tracker, which compares your progress with other users, like a video game.

And now, a new Board multiplies the opportunities for connecting by allowing you to chat real-time about -- or in -- your learning language. It has a section to find and check translations, search for alternatives to fixed phrases, or express spelling or grammatical doubts. There, you can also get in contact with people living in places you may be traveling, ask for tips, or even find a couch to crash on!

As users progress in their language studies, Babbel is fast developing, too. It has just launched full localized interfaces for native Spanish and French speakers, in addition to the current English and German ones.

Babbel is enthusiastically designed by a team of young software experts and language-instruction professionals at the Berlin-based company Lesson Nine. Founders Thomas Holl and Toine Diepstraten have many years of application development, IT management, community cultivation and interactive media experience. The other two founders, Lorenz Heine, was a co-founder and CFO of Native Instruments, and has extensive entrepreneurial experience in the software industry, while Markus Witte has online marketing and management experience, and a solid academic grounding in language, cultural theory and media. Content Manager Ulrike Kerbstat holds Master's degrees in language instruction and interpreting, and is fluent in German, English and French.

Through word-of-mouth, positive response from users, and excitement in the worldwide media, the number of Babbel users has increased at an astounding rate in places as far-flung as Caracas, Manhattan and Mumbai. And the best part is that, for the time being, learning for example how to order a Tapa in a Spanish bar costs a lot less than flying to Madrid: It's free.
Visit Babbel and start learning a new language in seconds. Spanish, French, German, Italian, Portuguese, Polish, Turkish, Indonesian, Danish, Norwegian, Dutch, Swedish and English